SIKKA Polymer Clay Workshop Day 2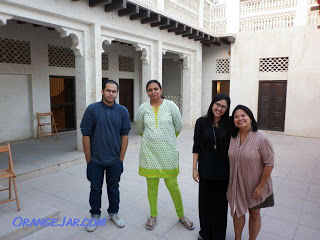 Today, I met Lina and Akram Al-Amoudi, two of the three siblings behind FK AD. All three of them took up arts and now they also work together. Isn't it cool when families collaborate like that? I remember when I interviewed Philippine sculptor Julie Lluch and her daughters and fellow artists Kiri (filmmaker - who I first knew in uni) and Aba (sculptor) for Herword.com. It was awe-inspiring to be in a table surrounded by pure talent, and double that with a family of pure talent.

This afternoon, it was the tandem of Lina and Akram. They shared the basics of sculpting during the Mobius Design Studio polymer clay workshop (SIKKA 2013). It all started with creating an armature out of wire and foil. They also showed us how to create a stand with wire that connects to your head's armature, a technique I have not seen before. It was a nifty trick that kept your head on a self standing base and helps immensely with sculpting.

They had a bunch of reference photos scattered on the long table and after we chose which characters to work on we started sculpting, using Sculpey's Original (terracota and white). My fellow workshop participants chose: Buddha, Einstein, Grace Kelly, Charlie Chaplin, Yubaba and I chose the Grand High Witch from "The Witches.". And while we worked, Lina and Akram went around showing techniques on creating eyes, nose and such. They referred to the photo each participant chose and commented on the works – what is missing, which should be added, etc.

When I was almost at the point when I think my witchy head was done, I asked the age-old question – so when do you think it's done? And we had a little discussion on why that is always the question – sometimes you just feel like tinkering with your work on and on and as a result, it never ever gets finished.

Akram suggested though that I pay particular attention to the texture and to experiment with it. The top part of my version of the Grand High Witch was smooth like a baby's bottom as opposed to the wrinkly face. The picture was also showing pot marks, maybe warts, and random strands of hair.

It was a very good point to consider. I concentrated so much on the face I forgot the rest of her. So before I sent my Grand High Witchess to the fires, I gave her more worry lines, scratches, veins, pot marks, warts and maybe even some boils.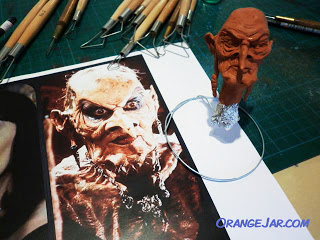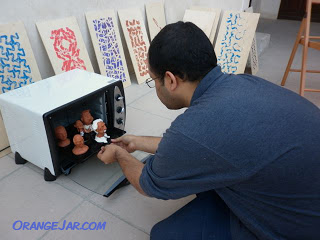 Well, that's the end of today's workshop. Tomorrow we're going back to paint our creations. I'm really excited to attend this session. We can use air brush which I have never tried yet. They say it's the best to use for coloring clay.


On a side note, I got lost

The workshop was held at Bastakiya, it's like a compound of similar looking traditional Emirati houes... and what did I do? I forgot the House number! I remembered it as House 43... I went there and that no it wasn't.

Then I thought maybe it was 23, and after a couple of missed turns I discovered it was not part of the SIKKA Fair and that section was close. Still looking... I definitely knew it had a 3, I called my friend Malen and she checked the exact number for me and it was 53! 53!

It was 35 degrees outside (35... 53... hmmm) – summer is officially here. So I was all red and sweaty when I finally found the workshop. And the funny thing is, within minutes, I was putting my cardigan back on because the ac was blowing strong and right at me!.

Exciting things will happen.