Trying Polymer Clay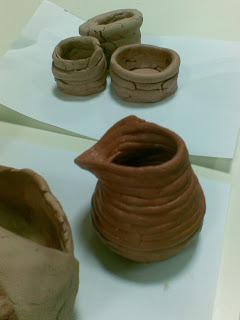 My friend and I committed to visiting the healthy number of museums in the UAE. With pottery class beckoning, we headed over to the Sharjah Archeological museum. I loved seeing the dioramas about the different burial sites; a very good glimpse into the UAE's past. Even as a kid, I loved dioramas, we used to visit the Makati Museum which houses an extensive collection of dioramas depicting Philippine history. As an adult, in recent years, I made a point of visiting it again!

We were told that they sometimes arranged site visits to the digs – that would be fun. We signed up for the alerts, hopefully it's something they'll organize while the weather is still fabulous! Then they took us to the pottery class. It was not a pottery class per se... First, there was a short talk on pottery, its uses in the olden times as well as the styles of making them.

After that, we had a hands-on session, and the museum staff told us how the traditional pots were formed using logs being stocked up one on top of the other. What we actually used was polymer clay: Sculpey Original Terracotta, which, if I am not mistaken, was the very fist time I have used this medium! I did not know of polymer clay before this!

Knowing now what it is, I've definitely encountered it in the past. Back in college, I both accessories made from it and one in particular stands out in my memory, a pair of pig earrings the first halves was up front and the other halves were behind my lobe! So cute.

The staff liked my pot that they asked to keep it to show other visitors. So my first polymer clay work is in a museum in the UAE.